The term "new normal" has been loosely thrown around thanks to COVID-19, signaling that businesses today recognize — the hard way — that prevailing work cultures are no longer adequate for a rapidly changing world.
With changes looming on the horizon, businesses are seeking ways to cut costs without sacrificing utility. And as far as communications go, Voice over Internet Protocol (VoIP) has surfaced as the way of the future.
The new normal for businesses
According to management consulting company McKinsey & Co., the new normal for businesses is the balance between what used to work and what needs to succeed in the next normal. The global pandemic of 2020 has highlighted how inadequate many existing work processes are to deal with such a disruptive event. But it has also shone a spotlight on exciting technologies and philosophies that will drive businesses forward deep into the future.
McKinsey's key concepts for the new normal are:
Effective remote working
Lines and silos are out; networks and teamwork are in
Just-in-time and just-in-case
Embracing a long-term outlook
Effective remote working tops the list for obvious reasons — because business ought to shift away from the traditional concepts of overtime and embrace the concept of working from home. Even if you don't intend to fully implement a remote work setup once business normalizes, it should still be something you're willing to consider as a business leader.
The new normal also demands a cultural shift toward inclusiveness, cohesion, unity, preparedness, and more responsibility. Information silos are out of the game; true productivity in the new normal can only be done through collaboration. Also, it's no longer sufficient to have a just-in-time supply outlook; companies should now look into preparing for the unknown.
At the root of all these concepts should be a solid communications base — one that saves time and effort compared to traditional forms of professional communication. It should also be reliable, more efficient to run, and can be configured for contingencies.
Why VoIP is a great fit
VoIP has been around for decades, but because it was less reliable than traditional phone lines when it first came out as a commercial business solution in 1995, many companies avoided using it. But today, bolstered by new technologies that are easier to find and cheaper to own, it is revolutionizing how companies stay in touch with their stakeholders.
Analog phones are on the way out and adapting to VoIP too late will have disastrous business consequences. More importantly, unified VoIP solutions are ripe for the taking. They've never been more reliable and never been as cost-efficient.
Many managed IT services providers (MSPs) nowadays provide comprehensive VoIP packages that include other tools and products that boost the capabilities of a standard internet phone system. For example, outsourceIT's VoIP package includes voicemail-to-email services, video conferencing, hotdesking, and other unified communications tools that will help you cut costs while improving productivity.
With our unified VoIP and communications solutions, your staff will have all the tools they need for effective collaboration. And because these solutions are available on mobile devices and laptops, you can ensure smooth operations while your staff stays safe at home.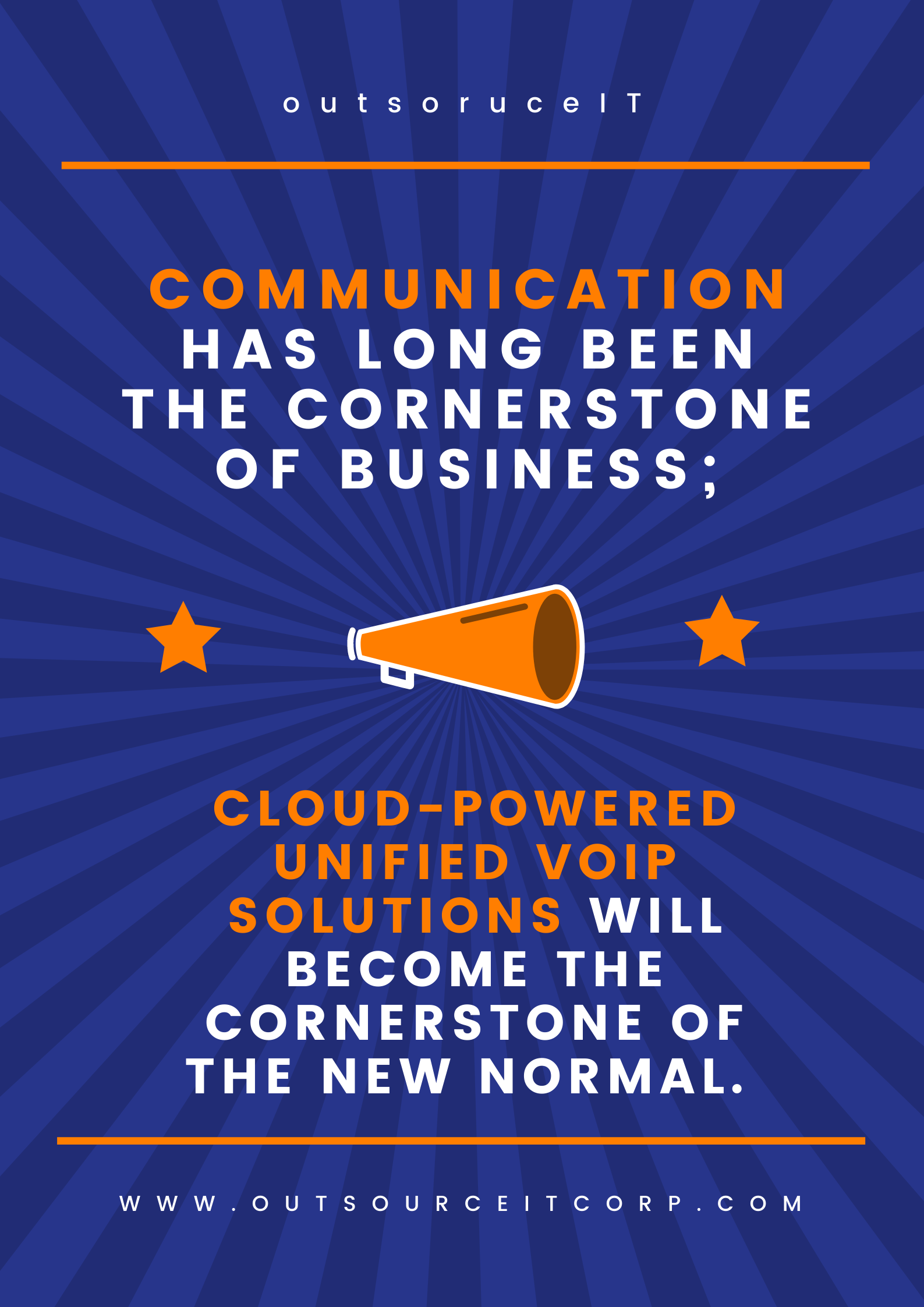 Make the move to VoIP with outsourceIT
outsourceIT's VoIP solutions are heavyweight in terms of benefits but lightweight in terms of cost. It's a great way to improve your communications infrastructure without breaking your budget.
"Communication has long been the cornerstone of business; cloud-powered unified VoIP solutions will become the cornerstone of the new normal."
Communication has long been the cornerstone of business; cloud-powered unified VoIP solutions will become the cornerstone of the new normal. The sooner you equip your company with it, the better.
With outsourceIT's VoIP package, your employees can work virtually anywhere an internet connection will let them. You get effective remote working, improved remote collaboration capabilities, the ability to deal with uncertainties ahead, and technology that can accommodate improvements and developments for the long term.
outsourceIT is the go-to VoIP solutions provider for La Plata and Winston-Salem SMBs. We will also help you bolster your cybersecurity and assist with maximizing your technology investments. Call us today for more information.

---